Pickleball is a game in which you can dress differently based on your style, degree of comfort, and the environment. For playing Pickleball games, there is a ton of pickleball outfits and equipment available for you to choose from! You could wonder, "What to wear for pickleball," as you prepare to walk onto the pickleball field for the first day. Also, read the Indoor vs. Outdoor Pickleballs?
Indeed, players can be seen sporting anything cozy and seasonally suitable, including athletic shorts, cooling clothes, sweatpants, t-shirts, etc. For women, tennis-inspired skirts and dresses are typical. Running shoes or Sneakers will not provide the proper assistance for the side-to-side motion essential in pickleball, so suitable court shoes are necessary. But, among all these options, what clothes for pickleball are the best?
To cut the story short, picking what to wear for pickleball can give you confidence on the court and significantly impact your game. This article will discuss what to wear to play pickleball and the best pickleball clothes for you regardless of your ability level! Also, check the How to Regrip your pickleball paddle?
So, let's dig in:
How to Pick Pickleball Clothes:
When looking for pickleball clothing, you must consider various things based on your taste and preferences. Whenever playing pickleball, picking the correct clothing can impact your game. You should wear clothing that is simple to maneuver around in, is easy, airy, functional, and suits properly. Although your best pickleball clothes will primarily depend on your likes and requirements, there are a few items to consider. Also, read Where Did Pickleball Originate?
The importance of comfort:
You must have good mobility whenever practicing pickleball, whether you like to participate in activities for enjoyment or competition. There is no use in sporting anything you admire and think comfortable in if you just couldn't physically maneuver in it since reaction time matters! You'll not only be able to play pickleball better by dressing comfortably, but you'll also be able to protect yourself from being hurt.
Do you prefer solid colors, or do you prefer patterns and brilliant shades? You are welcome to dress in your most vibrant, eye-catching attire for pickleball. Embrace your uniqueness when enjoying pickleball. Also, check the How To Clean a Pickleball Paddle.
Keep the weather in mind:
Are you performing during the winter? To keep your legs warmer, you may consider wearing jeans or leggings. Even though indoor pickleball is becoming more mainstream, many matches continue to occur outside. When deciding what to dress for pickleball, you must remember the location and the climate. If you're practicing in the afternoon, ensure you carry warm clothing and wear protection from the sun. After a heated match, the cold hits you swiftly! Also, check the What is an Erne in pickleball?
Picking the material that your pickleball outfit is designed from is crucially important. What kind of cloth do you prefer? Do you need a fabric that dissipates away moisture? Do you require stretchy clothing made of spandex so that your outfits can adapt as you drop fat while playing? Are you seeking better environmentally friendly fabric? 
What to wear to play pickleball:
When playing an athletic activity like pickleball, pickleball shirts and shorts are made expressly with their necessities and support. Almost all agree that playing pickleball makes us sweat a lot, and wearing the proper pickleball attire can improve our enjoyment of the game.
The best pickleball cloth is comfortable to move in, allows for layering when essential, and makes you feel satisfied. The pickleball clothing we suggest is listed under. We've separated the list into two sections: Pickleball outfits for men and Pickleball outfits for women. Also, we have recommended certain extras to keep in mind. 
Pickleball outfits for women:
Female Pickleball players enjoy changing things up on the court.
Although various colors and designs of women's pickleball clothing are intended primarily for the paddle game, you are not forced to purchase such attire if you don't like to.
The first vital point is that you may enjoy yourself on the court while wearing your pickleball attire. Women who play pickleball can dress in a variety of outfits, including the ones listed below:
Women's Shirts for pickleball:
There is a shirt for everyone, based on their taste and preferences! Pickleball tops you decide to wear would likely be primarily influenced by the weather. You can practice pickleball in athletic women's t-shirts, tank stops, or long-sleeve fitness tops, so make your choice. 
Tank tops are practical and ideal for wearing when playing outside on hot days. Tie-back tanks help you cooler on the game. A long-sleeved shirt offers additional protection when practicing outside in cooler weather. Also, these long-sleeved, breathable shirts can help shield you from the sunlight. On chilly days, a pickleball jacket is a beautiful option for both wearing on and off the court. 
The most common fabrics intended to make women's pickleball shirts are spandex and polyester since they are very comfortable and practical. If you prefer wearing cotton pickleball shirts, we advise picking a high-quality cotton tank top. Whatever option you select, make sure it dries immediately and won't hinder your service.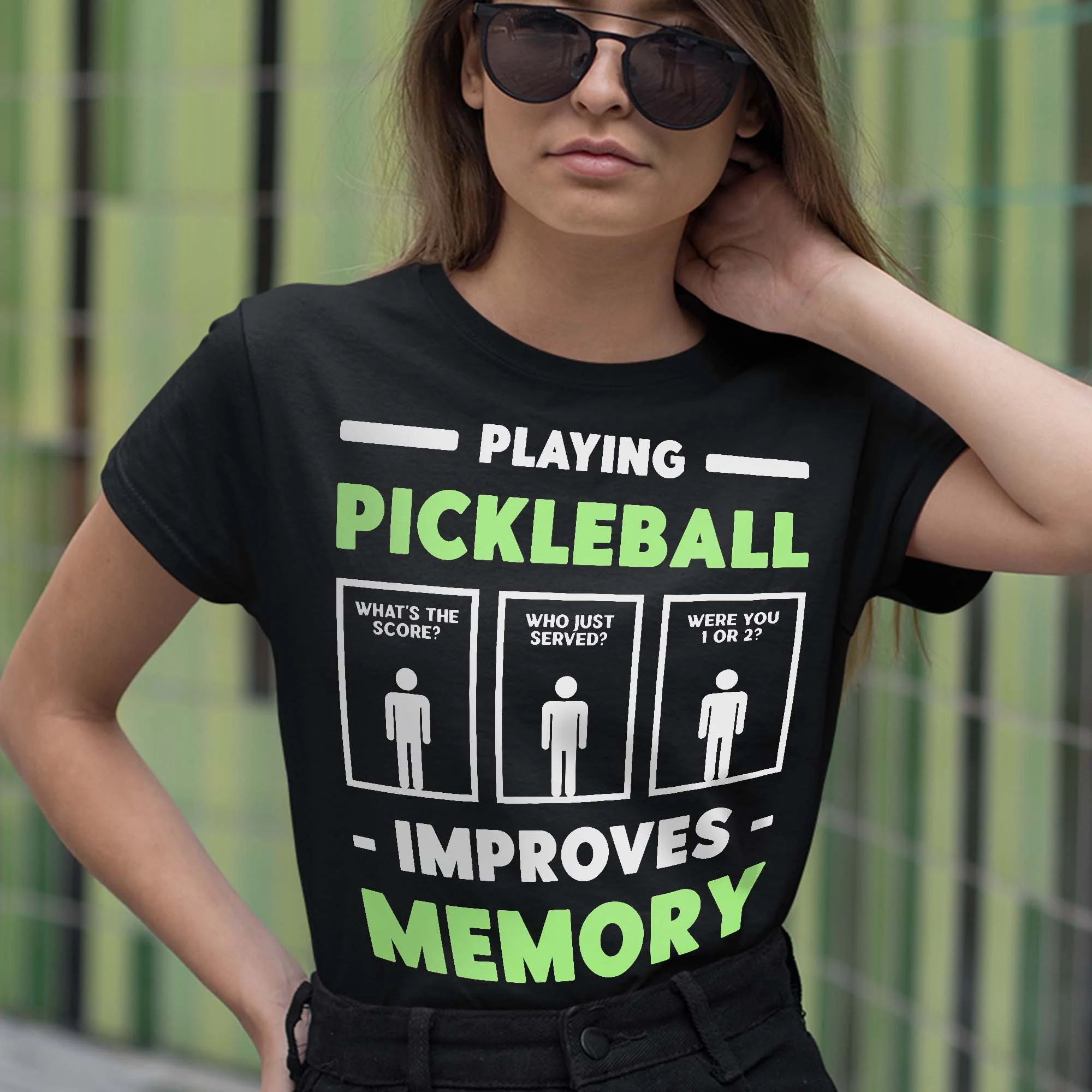 Women's bottom for pickleball:
You can dress whatever you usually would for the club or a fitness class on your bottom side. Female players prefer to dress correctly, wearing skirts, skorts, and Pickleball shorts with pockets. The most extensive common material employed to make women's pickleball shorts is polyester, while the inner of skorts are typically made of spandex.
Yoga tights are a fantastic alternative for pickleball since they are so comfortable and stretchy. If it's hot outside, you can wear them with athletic shorts or tennis skirts. In some circumstances, tennis-style outfits are a wise alternative. Pickleball is a terrific sport to play while wearing skorts. They resemble a combination of shorts and a skirt. They give the minimal covering of wearing shorts yet being cozy and fashionable.
Likewise, Pickleball skirts are excellent to wear when enjoying pickleball, based on your style. They breathe well and are comfy. Numerous skirt designs are available, including straight-cut to flared, A-line, and ruffles. Interestingly, Pickleball can be played while wearing capris. You can either match a skirt or no skirt with these. In the cold winter months, they offer further protection. Your capris end midway up the leg. Also, leggings are an excellent alternative to wear when playing pickleball in the cooler months. Leggings provide complete coverage for the entire leg, unlike capris, which only extend halfway down your leg. If you want to stay warm while playing pickleball in chilly weather, pickleball trousers are a terrific alternative. When you warm up or even when you play, you can wear them.
Women's bra for pickleball:
Due to its emphasis on sideways mobility, pickleball may provide decent aerobic conditioning for young and seasoned players.
When playing pickleball, it's essential to wear comfortable sports bras since you'll be jumping throughout the court.
The sports bra provides a lot more support and detachable padding. These are offered in a range of quirky colors to pick your favorite.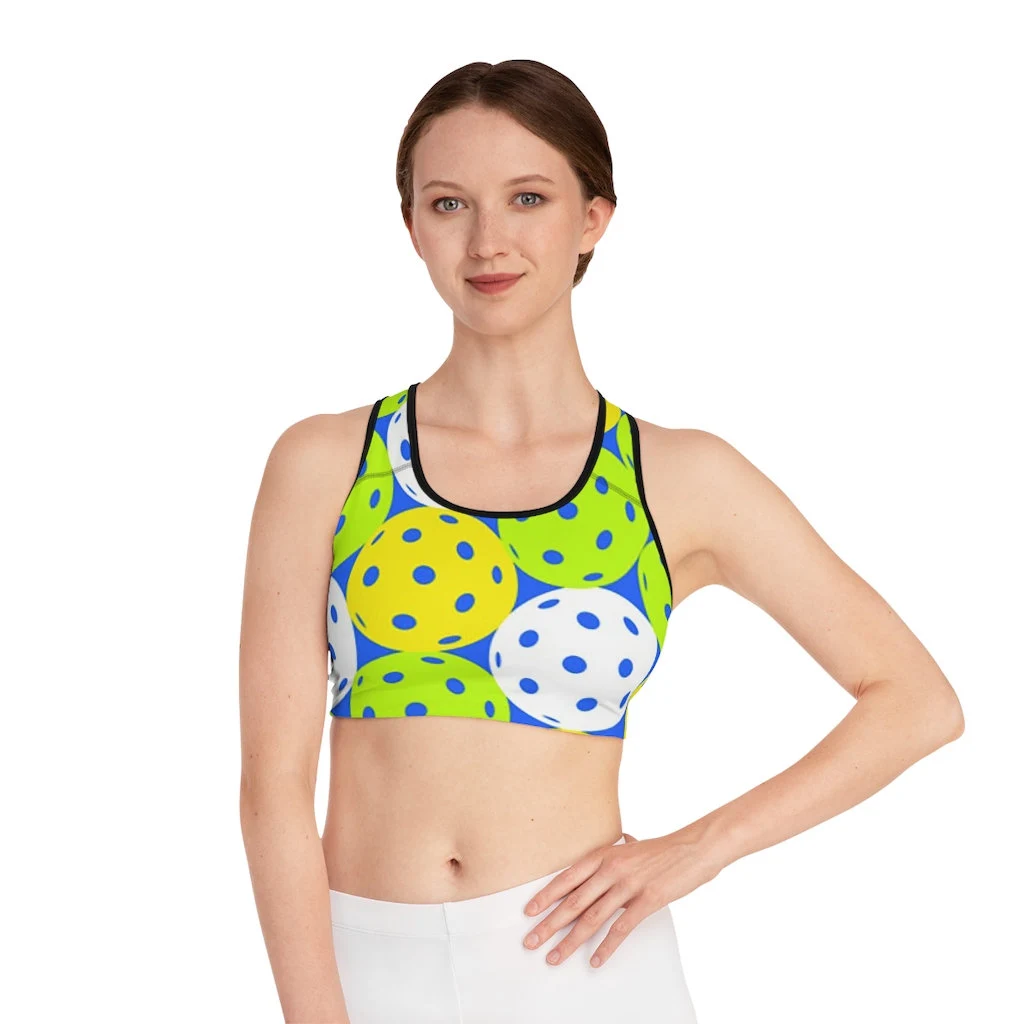 Pickleball outfits for men:
Pickleball attire is mainly made to accommodate the numerous body actions that occur while participating in sports. Men's pickleball shirts should be comfortable, not too baggy or tight, and have sufficient airflow. We all want to appear attractive on the pickleball court. Therefore, this is another factor that should be considered. We recognize that pickleball players' body types, heights, and ages vary. Here are the fundamentals any man requires in his pickleball attire:
The most crucial factor to consider while deciding what to dress for playing pickleball is convenience. Although they aren't necessary for maximum performance, athletic tops should be worn due to their quick-drying materials and flexible fit.
Men's pickleball shirts come in a variety of hues and patterns. Either you favor a long-sleeved shirt or a short-sleeved one. Polyester or Cotton fabric is frequently used to make men's short sleeve shirts. Some have fabric that absorbs moisture, while others have anti-odor technology that kills bacteria. To maintain breathability, some shirts use mesh. To safeguard against damaging rays, several shirts contain fabric featuring UV protection. 
A polo shirt is a good selection if you want to look nice on the court. Polos are available with long-sleeved and short sleeves. Similarly, a long sleeve garment is ideal for wearing on chilly days or for protection from the sunlight. Long sleeve tees are comfy and give you a range of motion. On the other hand, Men's pickleball jackets can also be worn during the play and outside of the court.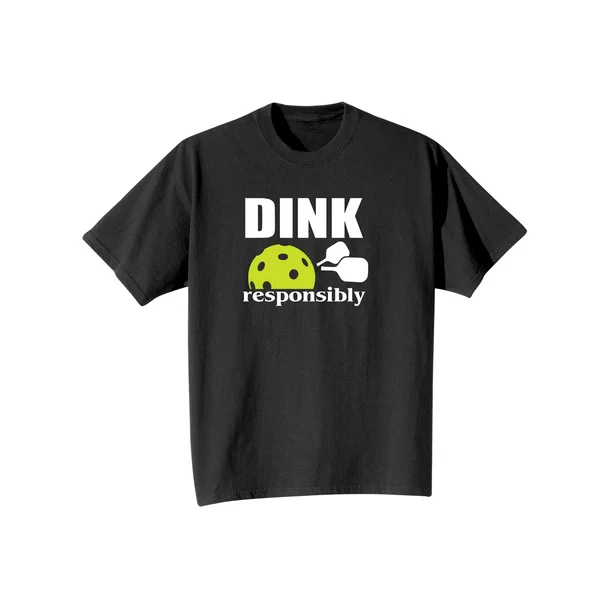 When it concerns your legs, ensure that your clothes do not impede your motion. Grab a pair of shorts that are both comfortable and permeable when you're browsing. Additionally, confirm that they are the proper length for you. Pickleball shorts are most frequently made of polyester. Cotton shorts have a certain feel that certain players prefer, but polyester is hands down the most popular material.
To avoid restricting mobility on the court, avoid wearing shorts that are either too long or short. It is a matter of taste. Several players feel limited when their trousers are lengthy and fall underneath the knees. Although you can play pickleball in any pants or shorts, certain manufacturers now make pickleball shorts that can survive hours of gameplay.
Shorts are typically the best choice. Sweatpants will work as well in cold weather.
Pickleball pants are an excellent alternative if you're competing in chilly temperatures. They add an additional warmth to you. Boxers that breathe well can help you remain comfy and protected underneath your pickleball attire. 
Other essential pickleball gear for men and women:

 
You certainly got the essentials; don't overlook the remainder! The decision of what to wear for pickleball extends beyond your clothing. In addition to the best pickleball clothes, other pickleball equipment must be utilized on the pickleball field to improve performance.
Here are a few extra items to finish your pickleball wardrobe as you own all the necessary pickleball outfits:
You should wear the right shoes while playing pickleball in complement to comfy, practical attire. Use court shoes to maneuver across the court more easily. Pickleball footwear is essential, specifically while competing on hard courts.
Your pickleball shoes are the one piece of pickleball attire you should spend the most time researching. Keeping into mind the kind of motion needed in the game, several Pickleball sneakers are made to adequately address the difficulties encountered on Pickleball courts. Proper footwear will improve your grip on outdoor and indoor pickleball courts and prevent a few more frequent injuries.
You should consider wearing a hat, eye protection, or visor when playing inside and outside. Sun-filled areas have arguably the largest pickleball club activities. A visor or cap will shield your eyes from the sunlight and prevent sunburn if it becomes bright where you practice.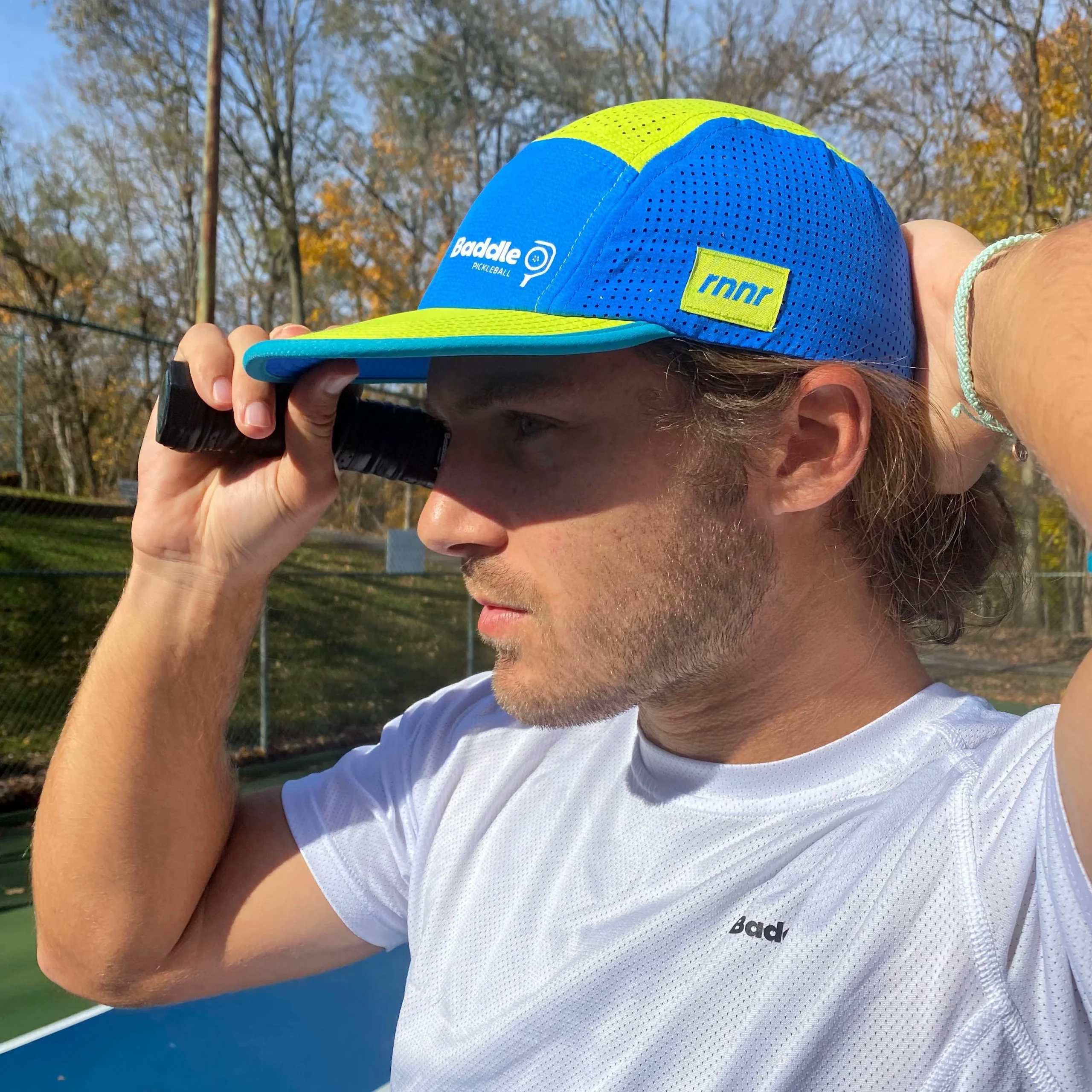 If protection is a top concern for you as a pickleball player, pickleball glasses are crucial on the court. Pickleball eye protection is achieved by wearing glasses. You wouldn't want a stray ball flying at you and poking yourself in the face! If a pickleball ball hits you in the eye, it hurts more than anything, and you may immediately quit playing pickleball.

Conclusion:
In short, both male and female pickleball players place a high value on pickleball clothes and gear. It's crucial to select the appropriate gear when trying a new activity to begin to experience it as comfortably as feasible. Shirt, shorts, legging, jackets, and undergarments are all equally vital for pickleball games. Eye protection is strongly advised. Players can choose visors, caps, sweatbands, light coats, or sweatshirts for cold outdoor play. Please share if our suggestions for pickleball clothes and equipment have been of any value to you in your journey. Please let us know if you have any suggestions for pickleball apparel or accessories we haven't already discussed.
Frequently Asked Questions:
What Sort of Pickleball Clothing Do the Pros Wear?
The pickleball professionals frequently dress in the clothes provided by their sponsors. Some professionals collaborate with specific fashion companies to create their range.
Does Pickleball Have a Dress Code?
No! A few of the reasons many people appreciate pickleball is that there are many great options on the court. One thing to remember about pickleball attire is that the court often has a variety of colors, so you don't need to dress formally.